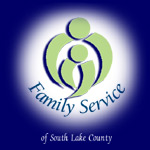 Family Service of South Lake County
Newsletter
Number 4/Volume 2, Fall 2002
---
Nuestro Center growing
United Way supports program expansion with $35,000 grant
One of our most successful programs is bigger and better than ever.
Nuestro Center, our family resource center for Latino families in Highwood, has moved into a larger space and is expanding its programs.
Nuestro Center has received a $35,000 grant from United Way of Lake County. The grant will allow us to expand programs for children and adults, including our popular free summer camp for children and our after-school Homework Club. This year, we enrolled more than 100 children in camp, a record attendance. With the help of United Way, children will have more wonderful opportunities to play in a safe environment, visit never-seen places and make new friends.
"United Way of Lake County is thrilled to be able to make an investment in Nuestro Center," said Kristi Long, president and CEO of United Way of Lake County. "I was so impressed with the program, which is accomplishing so much with so little."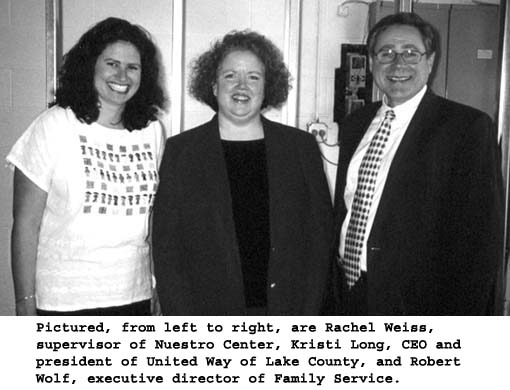 "The staff has such in-depth knowledge of what these families are going through. I don't think many people have any idea that nestled in this complex in Highwood are people in such desperate need," Long said.
Nuestro Center is located on-site at the North Shore Estates apartment complex in Highwood. We offer a comprehensive array of services, including primary prevention programs, counseling, English-as-a-Second-Language classes, parenting workshops and a free immunization and health fair.
Construction under way
Mid-America Management Corporation has generously donated apartment space and utilities at North Shores Estates since the Center opened five years ago. Mid-America agreed to donate a larger space for Nuestro, and City of Highwood officials have been very helpful during the construction process.
The Lake Forest/Lake Bluff Rotarians donated $6,000 for the expansion and challenged us to raise the remaining money. The Rotarians' enthusiasm spread, and others quickly volunteered to help.
Architect John Chipman of Chipman Adams LTD in Park Ridge agreed to donate his services. The First Presbyterian Church of Lake Forest helped us meet our final challenge by linking us with parishioners willing to renovate the Center at no charge. These terrific volunteers have given up their weekends and evenings (during the summer, no less!) to transform a two-bedroom apartment and adjacent storage unit into the new Nuestro Center.
"This has been real positive for everyone," said Jim Mayhall, who is in charge of lining up volunteers from the church. "We hope the children will use it and take advantage of it. It will be wonderful."
When the renovation is completed, we will open a computer lab for children and adults — thanks to the generosity of Township High School District 113.
The district donated nine new computers, technical support and $3,500 for installation of the computers and computer network.
To all those involved with this project and to Nuestro's many supporters and volunteers, we say Thank you! and Gracias!
Family Service is now online!
Visit us at www.fsslc.org for easy access to virtually anything you want to know about Family Service: our history, the programs and services we offer, board membership and volunteer opportunities, our quarterly newsletter and a calendar of events. Many contributors prefer the convenience of making an online contribution, and our Web site offers this service as well.
"The Web page is a 21st Century informational tool and as such it will allow us to reach more people in telling our story," said Executive Director Robert Wolf. "People interested in the agency or anyone wanting more information about what we do will have access to timely, up-to-date information on everything from our services to volunteer opportunities."
The Web page is a work in progress. In the winter, we will add a bilingual Web page listing resources and services for Lake County's growing Latino population. Additionally, all of our newsletters and our annual reports will be archived on the site.
The Web page provides a general e-mail address, making it easier for colleagues, clients, funders and community members to reach us.
We extend our heartfelt thanks to DePaul University Professor Christine Skolnik, Ph.D., and her students for their many hours of hard work on this project. We especially thank Suzanna Kim for her dedication in the final stages.
Don't forget to drop by soon and let us know what you think!
2002 Annual Meeting draws raves
Meet Victor Carapella, our new Board President!
We are very pleased to introduce Victor Carapella as the new president of the Board of Directors of Family Service. Mr. Carapella was elected to a three-year term at our annual meeting.
We asked Mr. Carapella to participate in a short Q & A with us so that you can learn more about him and hear about his plans for the agency.
Q: Tell us about your professional background and family.
A: I have worked at First Midwest Bank for more than 15 years. As President of our Deerfield operation, and more recently as Manager of our commercial operations in Lake and McHenry counties, my responsibilities include overseeing the North Metropolitan branches, involvement in the north metro community and being an integral part of the executive committee at First Midwest Bank.
I reside in Glen Ellyn with my wife, Jacki, and daughter, Courtney. My son, Sean, graduated from Colgate University and now resides in the suburbs of Boston, working as a software engineer. I am an avid fly fisherman and antique and art collector.
Q: How long have you been associated with Family Service and what other positions on the Board have you held?
A: I became a member of the Board of Directors in July, 1998, a Second Vice President in 2000, and I look forward to being your President in 2002.
Q: What drew you to the agency?
A: The ability to provide extended high-quality family care at all income levels within the community. I was also attracted to the high level of dedication and high-quality expertise of the Family Service staff. In short, there is a very clear sense of excellence in both the care given to our clients and the quality of our staff members.
Q: As president, what are your goals or dreams for the agency over the next three years?
A: To continue the level of care and client focus within our existing communities and to expand the geographic scope and type of programs into areas where we can best serve the family unit in accordance with our evolving goals and mission.
Almost 100 turn out for first public event in 72-year history
Family Service held the first public annual meeting in the agency's history on June 13, and the feedback we received was overwhelmingly positive.
"I loved the speaker, and I thought the very impressive turnout and the representation from across the community showed the support Family Service has," said Kristi Long, new president and CEO of United Way of Lake County. "It was the nicest annual meeting I've ever been to."
"The meeting really opened my eyes," said State Rep. Susan Garrett. "I didn't really realize the great extent you have reached out to people and impacted families and individuals."
Nearly 100 guests attended the breakfast meeting at the lovely Harrison Conference Center in Lake Bluff. As our guests enjoyed a complimentary breakfast, we elected a new slate of board officers, recognized some outstanding individuals and heard from a state expert on the very timely issue of terrorism.
A highlight was the presentation of beautiful crystal awards to four individuals whose dedication to Family Service has been exemplary (See story below on our winners). The Board of Directors also honored board treasurer Terry Michaels and outgoing President Vito Maiorano for their many years of excellent service, diligence and hard work on behalf of Family Service.
Featured speaker talks about state's preparation for terrorism
Marine Col. Richard Jaehne (Ret.), the director of the Illinois Fire Service Institute and member of Gov. George Ryan's Task Force on Terrorism, was the featured speaker. Col. Jaehne spoke in a frank and informative manner about steps Illinois has taken to protect residents in the event of a terrorist attack.
"People always ask me, 'When are we going to get back to normal?' " Jaehne said, "And I tell them, 'You're in it.' "
Jaehne said the job of tracking the global terrorism network that now exists could be compared to dumping a pile of jigsaw puzzles together, throwing out the pictures and then beginning the pain-staking process of matching pieces together to get a sense of the big picture.
"Col. Jaehne talked about a difficult topic, but he did so with such competence that it was reassuring," said Vito Maiorano, former Board president. Many at the meeting made similar comments.
"It was a wonderful topic," said State Rep. Karen May, who was a guest. Rep. May said she was up to date on the state's efforts to combat terrorism, but she was glad that citizens had an opportunity to hear the information. "It was good to bring it out in the open. I thought it was excellent — the topic, the graphics."
Thank you for joining us on June 13 and making our first public annual meeting such a memorable occasion. If you didn't make it this year, we hope to see you in 2003!
Services for seniors now available countywide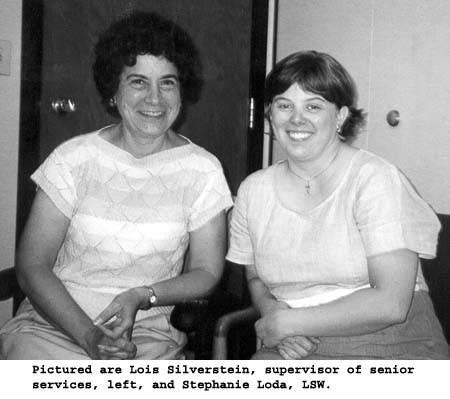 Family Service is pleased to announce mental health counseling and educational groups are now available to seniors countywide. The expansion is made possible by a $52,130 federal grant administered by the Northeastern Illinois Area Agency on Aging.
Staff members Lois Silverstein, supervisor of senior services, and Stephanie Loda, a licensed social worker, have been visiting Lake County senior centers, independent/assisted living facilities, nursing homes and senior coalition meetings to talk about senior mental-health issues and how to access our services. The response has been very positive.
Senior centers in Ela Township, Waukegan and Round Lake were enthusiastic about our educational groups. Ela and Round Lake have scheduled four-week educational groups on the topic, "Improving Communication with Your Adult Children." Those groups will take place in the fall. Other group topics offered recently include, "Dutiful Daughters & Sons (for adult children of aging parents)," "Widow/Widower Support Group" and "Sandwich Generation (caregiver support group)."
For more information on senior services, please call Family Service at 847-432-4981 and speak with Lois Silverstein, Ext. 16, or Stephanie Loda, Ext. 38.
Four recognized for exemplary support of Family Service
It truly was a delight to recognize four outstanding people for their efforts on behalf of the agency. We created two categories of awards, "Distinguished Fellow Award" and "Distinguished Service Award," to honor their contributions.
The Board of Directors unanimously chose John, Willie and Otto Cortesi as the first winners ever of the highest honor FSSLC can bestow — the "Distinguished Fellow Award." Their willingness to offer a unique, subsidized rental arrangement to FSSLC since 1971 represents the kind of "extraordinary demonstration of giving" called for in the criteria for the award. Their contributions are well into the hundreds of thousands of dollars.
"We appreciate this award and accept it with a lot of respect and humility," said Willie Cortesi, accepting for the brothers. He joked: "Several times I tried to raise the rent, but my brothers voted me down."
With the inauguration of our "Distinguished Service Award," we were fortunate to recognize an individual whose loving efforts on behalf of Nuestro Center, our family resource center in Highwood, have made such a significant difference.
Rosemary Espinosa has given of herself over the past five years in ways that shaped the very future of Nuestro Center and have positively impacted the lives of hundreds of young people. "I get very emotional," said Rosemary Espinosa, fighting back tears as she accepted her award. "I wouldn't be here without Judy Amedei and Maggie Ronzani (fellow Nuestro Center Advisory Board members). Being a volunteer is very selfish. You get more back than you ever give."
The Highwood City Council also recognized Rosemary for her efforts at Nuestro Center and for her Distinguished Service Award.
Congratulations, Rosemary, you deserve it.
We are pleased to introduce you to these very special people. You can read more about them in the bios below.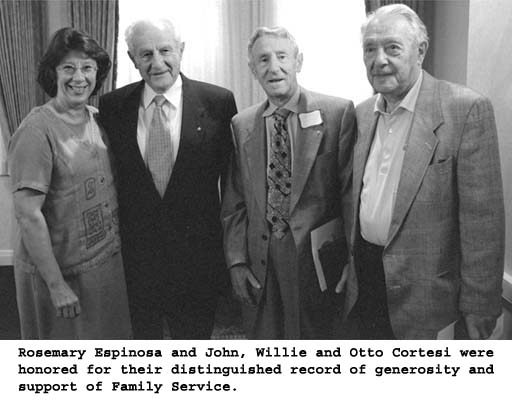 John J. Cortesi: John Cortesi was born and grew up in Highland Park, IL. He established Sunset Foods in 1937 and was joined 10 years later by his brothers. John also served on the board of Centralla Foods as a director, president and chairman of the board for more than 35 years. His other leadership roles have included serving with the Illinois Food Retailers Association, the First Bank of Highland Park, the Highland Park Chamber of Commerce, The Highland Park Rotary Club, Family Service, the Boy Scouts of America, Bob O'Link Golf Club and as Trustee of Immaculate Conception Church and Highland Park Hospital. He received the Rotary Club's distinguished "Paul Harris Fellowship" Award, the Illinois Food Retailer's "Man of The Year" Award, the Merchandising Executive Club "Award For Leadership" and the prestigious City of Hope "Spirit of Life" Award. John and his late wife, Jean, had four children, nine grandchildren and three great-grandchildren.
Otto Cortesi: Otto Cortesi was born and raised in Highland Park, IL. He was schooled at Immaculate Conception in Highland Park and remains a loyal supporter of the church. He joined his brother, John, at Sunset and began a long and rewarding career at the popular store. The early days were very difficult — "a lot of competition, a lot of charge accounts" during some difficult economic times. He says that he and his brothers realized that a lot of money was being lost on the charge account customers, so they decided to "go cash and carry – no charges, no deliveries." That was the beginning of a very successful period for Sunset. He credits the company's hard-working and loyal group of employees for making the company such a success. Otto has been active with the Highland Park Chamber of Commerce and the Lions Club. He and his wife, Anna, have four children, four grandchildren and two great-grandchildren.
William J. Cortesi: William Cortesi, born in Highland Park, IL, joined Sunset Foods in 1947, bringing with him a dedication to the community and the ingredient that he feels is so important in business, "a lot of common sense." Sunset could compete with larger chains, he said, because "we were more dedicated and gave better service." Often complimented on the quality of its employees,
Sunset was known for its outstanding training program. "I'm often asked, how did we train our people?" William says. His answer: "We just went out and worked alongside them and taught them by our example." William's dedication to his community is reflected in his role as the first
president of the Highland Park Community Chest, as it was called at the time. He also was president of the Highland Park Chamber of Commerce and Catholic Charities. He and his wife, Ruth, have
three children and two grandchildren.
Rosemary Espinosa: Rosemary Espinosa is a Highwood, IL, resident whose family has lived in the area for several generations. She has been a teacher at Oak Terrace Elementary School in Highwood for 14 years and has spent 29 years in the school system. A bi-linguist, she has spent summers in Cuernavaca, Mexico, studying Spanish. Rosemary has been a dedicated volunteer and Advisory Council member at Nuestro Center since the program's inception five years ago. During that time she has contributed some 750 hours of her own time to the various activities of the Center. Rosemary is the driving force behind "The Homework Club," an after-school tutoring program for children who live at North Shore Estates. Every Monday she provides not only her expertise in schoolwork, but creates a caring, "kitchen table" atmosphere for all kids. Her devotion to Nuestro Center and to Highwood's Latino community is endless, as she goes above and beyond to help its children to succeed.
Thank you Nuestro volunteers!
The following parishioners from First Presbyterian Church of Lake Forest have generously donated their time and expertise to the Nuestro Center renovation: Project Manager Carl Stevens, Chuck Bunting, The Rev. Dr. Gordon Neil Butcher, Art Chantler, Chip Dell, George Fossell, John Johnson, Brian Martinat, Pete Maude and son, Tug, Jim Mayhall and son, Drew, Jim Mynhier, Steve Powell, Bob Reaumond, Jim Robertson, Scott Smith, Steve Smith, Tom Tompson and Lake Forest High School students Tom Hennessy, Alec Johnson and Brett Williams.
Congratulations, Sonju Walker
Ms. Walker, from the Lake County Community Develop-ment Division, was the winner of a $100 gift certificate from Lettuce Entertain You Restaurants. The gift certificate was donated by First Midwest Bank of Highland Park and given away in a drawing at the Annual Meeting. Thank you, First Midwest!